The National Coalition of 100 Black Women, Long Island Chapter Inc. will host a National HIV Testing Day program at the Wyandanch Public Library on June 27 from 6-9 p.m. All are welcome to attend. READ MORE
Due to the Wyandanch Public Library's Board approval process for programs, a decision was made today by the Director, Timur Davis, to postpone the HIV Testing program from Wednesday, June 27th to September for recognition of National HIV/AIDS and Aging Awareness. I apologize for this inconvenience and hope that you will remain excited about the up-coming HIV/AIDS Initiative programs and activities.
.........................................................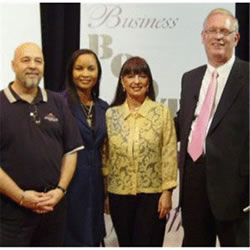 .........................................................

by Melissa Argueta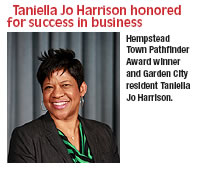 [Garden City Life, March 23, 2012] When Garden City resident Taniella Jo Harrison wakes up every morning, finding new ways to help others is likely on her mind. In 10 short years, the busy executive vice president of Tri-County Home Nursing Services in Westbury has taken her family's business and increased revenue by nearly 500 percent, quadrupling the size of her company's work force.
A Fort Lauderdale, FL native, it seems Harrison's path to success was destined from childhood. One of her earliest memories was when she and her sister would come to New York every summer to visit their grandmother, Ella Ferguson, owner of Tri-County. "When my grandmother opened her first office on 42nd Street in Manhattan 30 years ago, she introduced us as the president and vice president of Tri-County. Of course, we were 8 and 9 years old. That kind of stuck in mind," she said.
Hempstead Town Pathfinder Award winner and Garden City resident Taniella Jo Harrison.
Click here to read full article (PDF)
.........................................................

by Lisa Kirchner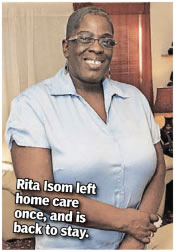 [New York Post, Health at Home] Rita Isom's gap-toothed smile flashes easily as she talks about how her career in home health care started. "I was helpIng a woman in my church who was an amputee," she says. though Isom had no professional training, she knew she could help. "She needed someone to take care of her so I stepped in." Eventually the woman passed away, but Isom had found her life's work. "I got such a refreshing feeling from helping someone who wasn't able to help themselves that I took the classes to become a personal care assistant," says the 52-year-old Long Islander. She distinguished herself from the start—which ensured a level of challenge In the assignments she drew. "I was sent in on the hard cases," she recalls—clients wIth difficult personalities.
"My parents were getting on in age and I thought about what it would be like for them If they needed an aide," she says. "I treated the people I cared for as if they were my parents." that doesn't mean it was easy. Isom points out that growing up, she was the youngest of four, and with three protective older siblings, "I never had to learn to stick up for myself," she says. "When patients would yell at me I didn't know how to deal with it." for advice she turned to her mother, a pastor, who told her to be patient. "they were in pain," she says.
What kept her going was the knowledge that she was a difference in the lives of people in need. Still, over time the work took its toll. Between her own family responsibilities—a husband and two sons—and the demanding work, she began wonder if she was In the right field.
"I took a break and drove a school bus for a year." that was nearly eight years ago. She returned and hasn't looked back.
"It's hard to explain what I get out of it," says Isom, who works for tri-County Home Nursing Services in Westbury, LI. "But I'm sure I made the right choice now."She plans to stay in home care until she quits working. "I laugh at work every day. We sing and dance. How many jobs let you do that?" she asks.
.........................................................

By Jamie Herzlich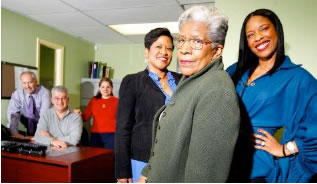 [Newsday] Early last year Tri-County Home Nursing Services in Westbury accomplished its longtime goal of expanding into Suffolk County.
But just 10 months after the 30-year-old home health services company opened a Coram office and started building a client base, it was forced to scale it back due to statewide Medicaid cuts, say company officials.
"It was heartbreaking," says Taniella Jo Harrison, 40, Tri-County's executive director and granddaughter of the company's founder. She says they were forced to lay off five administrative staffers and cut patient caseload by more than half in Suffolk. "We had to do it or we couldn't make payroll or pay our bills.
"The company, which employs 200 aides and has annual revenues of more than $5 million, relies on Medicaid reimbursement for about 70 percent of its business. The remainder comes from private-pay clients and other private service contracts. The reduction in Medicaid reimbursement means they're paid less per patient while having to provide the same quality of service, thus reducing their revenue stream.
Click here to read full article (PDF)
.........................................................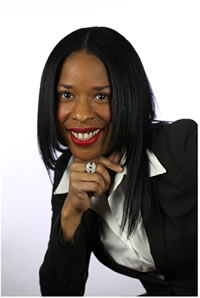 [Westbury, Jan.10, 2012] Giana B. Harrison has been named a recipient of the prestigious 40 Under 40 Award by the Long Island Business News, a Ronkonkoma-based business journal. The annual award recognizes outstanding members of the business community on Long Island who are under the age of 40.
Harrison, who is a resident of Hicksville, was recently promoted to the position of deputy administrator/vice president of operations at Tri-County Home Nursing Services, a home healthcare agency with offices in Westbury and Coram that is one of the largest woman-owned and minority-owned businesses on Long Island. In her new role, Harrison is responsible for directing human resource management, office administration, billing and payroll, marketing and community relations for the agency, which serves Nassau, Suffolk and Queens. Harrison, who was previously assistant executive director, joined the firm full-time in 2004, after working there part-time while in college. She holds a Master of Science in mental health counseling from Nova Southeastern University in Davie, Florida, and a Bachelor of Science in psychology from Tuskegee University in Tuskegee, Alabama, where she minored in marketing. As a member-at-large of Sigma Gamma Rho Sorority Inc., Harrison performs community service to help school children realize their potential.  
Harrison will be presented with her award during a gala ceremony at the Crest Hollow Country Club in Woodbury on Jan. 26. Award recipients, who are regarded as the future leaders of Long Island, are chosen because they have already begun to distinguish themselves in business, government, education, healthcare and the nonprofit sector. They have a proven track record of career success, are involved in mentoring and promoting their profession and find time to give back to the community.
.........................................................

Westbury, NY – August 3, 2011—Community Health Accreditation Program, Inc., (CHAP) announced today that Tri-County Home Nursing Services, Inc has been awarded CHAP accreditation under the CHAP Community Health Standards of Excellence. This is the 1styear CHAP accreditation has been awarded to Tri-County Home Nursing Services.
CHAP accreditation demonstrates that Tri-County Home Nursing Services, Inc meets the industry's highest nationally recognized standards. Rigorous evaluation by CHAP focuses on structure and function, quality of service and products, human and financial resources, and long term viability.
"We are very pleased that Tri-County Home Nursing Services, Inc chose CHAP accreditation," said Terry A. Duncombe, CHAP President and CEO. "Voluntarily selecting to achieve CHAP accreditation and meeting our high standards of excellence demonstrates Tri-County Home Nursing Services, Inc's commitment to Quality. CHAP is delighted to work with their entire team through the ongoing process of quality improvement."
Tri-County Home Nursing Services, Inc provides a variety of nursing services to patients and their families in Nassau and Suffolk counties and surrounding areas.

CHAP is an independent, not-for-profit, accrediting body for community-based health care organizations. Created on 1965, CHAP was the first to recognize the need and value for accreditation in community based care. CHAP is the oldest national, community-based accrediting body with more than 5,000 agencies currently accredited nationwide. Through "deeming authority" granted by the Centers for Medicare and Medical Services (CMS), CHAP has the regulatory authority to survey agencies providing home health, hospice, and home medical equipment services, to determine if they meet the Medicare Conditions of Participation and CMS Quality Standards. CHAP's purpose is to define and advance the highest standards of community-based care.
For more information about the CHAP accreditation process, please visit the CHAP Website at www.chapinc.org. For additional information on CHAP, please contact Michael Grogan, Director of Business Development, at 202.862.3413 or mgrogan@chapinc.org.
For additional information, contact Taniella Harrison Executive Director of Tri-County Home Nursing Services, Inc at 516.997.1208 or visit www.tchns.com.
.........................................................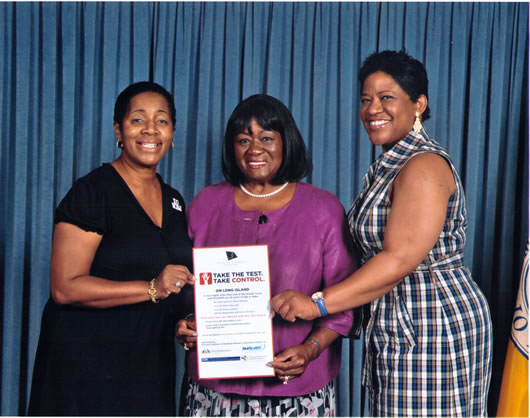 (Left to Right) Wilma Holmes-Tottle, Dorothy Goosby, Hempstead Council woman, and Taniella Harrison promoting an HIV/AIDS program called Take the Test, Take Control. Visit the National Coalition of 100 Black Women's site to view an article about the program.
.........................................................
Daisy Dickerson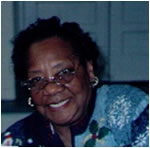 Pablo Casals, a Spanish cellist and conductor said it best, "I feel the capacity to care is the thing which gives life its deepest significance." This quote exemplifies the spirit of Daisy Dickerson. Daisy Dickerson began with Tri-County Home Nursing Services Inc. in 2006. Since then she has provided our clients with overwhelming compassion and care. Daisy is a rare jewel and her ability to make our clients feel at ease has allowed them to get back to the things they enjoyed most in life.

Daisy is passionate about home care. Regardless of weather or personal conflicts Daisy makes the commitment each day to service the people that rely on her skills.

Tri-County Home Nursing Services, Inc. appreciates you and we are all wiser for having known you. We are honored and take great pleasure in presenting you with the 2010 Aide of the Year Award. Daisy this is your day! Congratulations

.........................................................

January 18, 2010 By EMI ENDO emi.endo@newsday.com

Quick Summary Linda Cunegin helms Tri-County Home Nursing Services of Westbury, the business her mother started in 1981.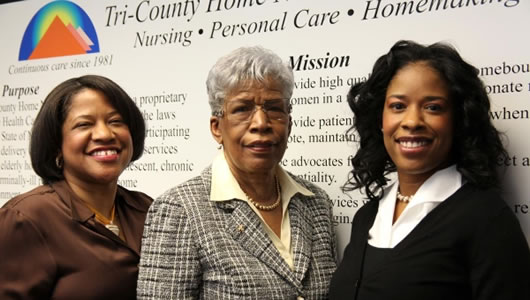 Photo credit: Pablo Corradi | Linda Cunegin, president of Tri-County Home Nursing Services, is flanked by her daughters who also are in the family business -- Taniella, left, and Giana Harrison. The company office is in Westbury. (January 2010)
When Ella Ferguson died in 2002, her daughter, Linda Cunegin, had to decide whether to sell or take over Tri-County Home Nursing Services, the home health care agency her mother founded in 1981. "My mother's employees and the clients had been together for like 15 years, and it was just too much" to sell it, Cunegin says. "I said, well, let me keep my legacy."
Read Feature...
Dorothy Turner PCA

Dorothy Turner is a Personal Care Aide and has been with Tri-County Home Nursing Services, Inc. since 2006.  Dorothy is the assistant lead aide at our shared aide site and provides care to multiple patients who live there. 
One of Dorothy Turners' assigned patients was an 88 year old woman with.  Although the patient had seven children, she had not had any contact with them for many years. Having many health issues she became ill and had to be hospitalized.  Knowing that her patient did not have any family involvement, Dorothy would visit her regularly. Dorothy Turner became so familiar to the staff and patients social worker that they began to rely on her for any known patient information.
There was a sudden change in the patients' condition continued to deteriorate and Dorothy continued to go to the hospital to visit her, as she said, "I'd hate to see her spend her last days alone without someone being there for her". Feverously Dorothy tried to locate one of the patients' children. With just pieces of information previously given to her by the patient and persistence Dorothy was able to locate one of the patients' daughters.
Unfortunately this patient was overcome by her illness and did expire however not without having been reunited with one of her estranged daughters and not alone.  Dorothy continues to reach out her caring compassionate hands to others and we at Tri-County Home Nursing Services, Inc. applaud her and feel honored to present her as our PCA Care Giver of the Year.
Congratulations and May GOD continue to richly Bless Your Life
Beverly Wooden HHA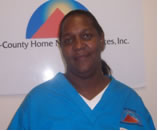 We at Tri-County Home Nursing Services, Inc. have wonderful care givers working for our agency.  Their praiseworthy deeds are frequently unnoticed and the caregiver is often overlooked. Tri-County Home Nursing Services, Inc. has a very qualified Home health Aide that we have selected as being one of our "Care Givers of the Year", Beverly Wooden. 
Beverly Wooden is a Home health Aide and has been with Tri-County Home Nursing Services, Inc. since 2005.  Beverly Wooden is synonymous with dedicated and reliable.  Beverly works exceptionally well with our mentally challenged and physically disabled patients.  Families of patients have reported how well Beverly has motivated their loved one to do things that had not been able to be accomplished in the past. There has been no job assignment too difficult for her to master or too far to travel.  Beverly is very compassionate, with most her patients declining service when she takes time off; with some patients declining service for the length of her vacations. 
Our hats go off to you Beverly Wooden, you are truly a hard act to follow, which has been proven time and time again.    Tri-County Home Nursing Services, Inc. applauds you and we feel privileged to present you as our HHA Care Giver of the Year.    
Congratulations and May GOD continue to richly Bless Your Life